AKA "Spouse of the Year" Package
Why not say "I LOVE YOU" with the click of a button!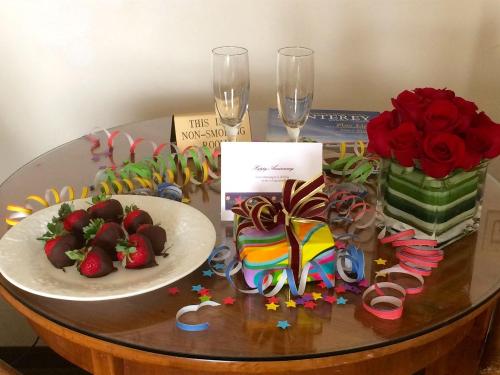 Our Anniversary Package allows you to choose any available room and for an additional $69 you will receive the following:
One bottle of premium champagne
One dozen roses
Chocolate dipped strawberries
Festive room decorations including confetti and streamers
A gift wrapped keepsake ornament from Kris Kringle of Carmel
24 hours advanced notice required.
Whether you planned your "Anniversary Getaway" months in advance or you threw it together at the last minute...we can make any anniversary memorable with this thoughtfully prepared enhancement package provided exclusively by the Horizon Inn and Ocean View Lodge. Book your Anniversary Getaway and Package online.
Just $69 plus the cost of the room